LS Electric 디지털 산수화 인터랙티브 콘텐츠
LS Electric Digital Landscape Interactive Content
Digital Landscape : The landscape of the future completed by smart energy
디지털 산수화 : 스마트 에너지가 완성하는 미래의 산수 풍경
By depicting the digital landscape beautifully completed with blue energy,
We deliver the image of LS ELECTRIC, an eco-friendly company that opens the future with smart energy, through media art.
푸른 빛 에너지로 아름답게 완성되는 디지털 산수화의 모습을 구현하여,
스마트 에너지로 미래를 열어가는 LS ELECTRIC의 친환경 기업 이미지를 미디어아트를 통해 전달합니다.
Realtime Interactive Digital Landscape Content with 10k Digital Signage
10K 디지털 사이니지 실시간 인터랙티브 콘텐츠
This project is real-time interactive content expressed on L-shaped digital signage with 10k resolution.
In this content, realistic natural landscapes and landscape paintings drawn using traditional Korean painting techniques are intersected. It depicks a fantastical nature.

본 프로젝트는 10k 해상도의 L자형 디지털 사이니지에 표현된 실시간 인터랙티브 콘텐츠입니다.
이 콘텐츠에서는 실감나는 자연 풍경과 한국 전통 회화기법으로 그려진 산수화가 교차되어 보여집니다.
이는 환상적인 대자연의 모습을 묘사합니다.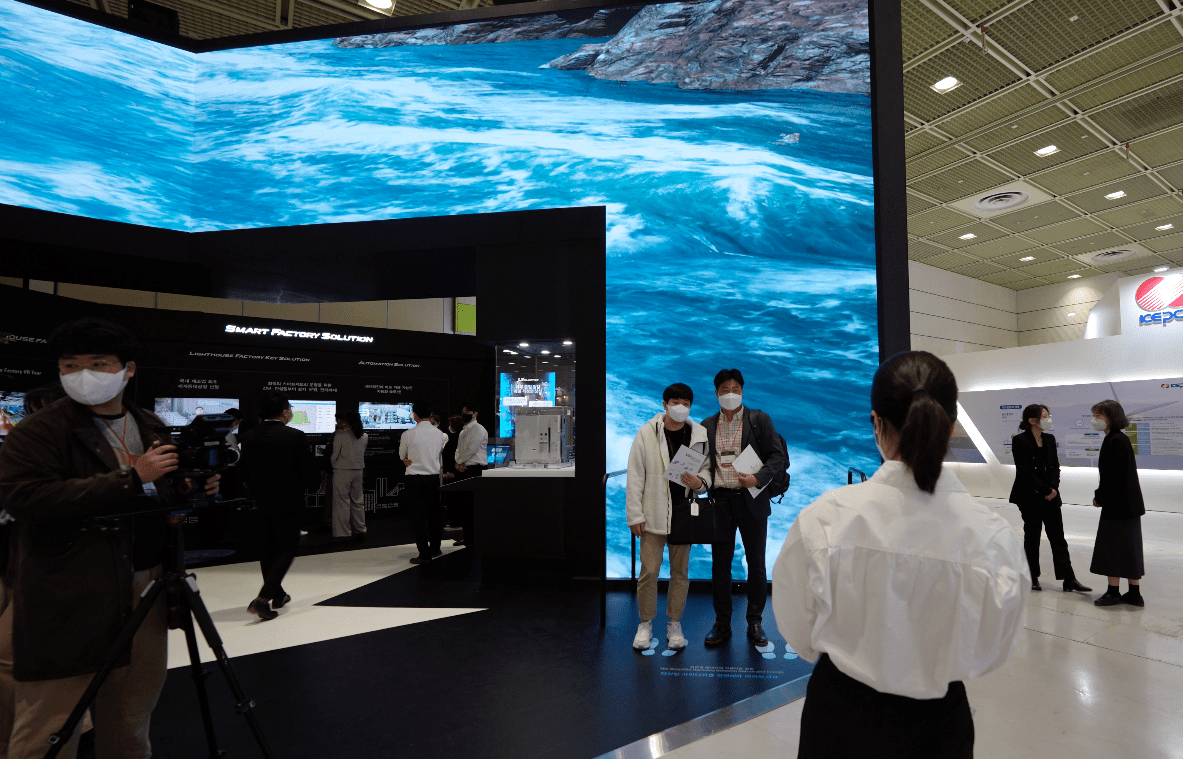 On the screen of the lower right column,
when the user moves, the motion is recognized by the Depth Camera sensor, and mysterious particles swirl accordingly.
These particles permeate nature and complete the landscape.

Surprisingly, this content was run in real-time on a 10k resolution digital signage and Windows platform.
This enabled the content to respond to users in real-time, providing a new and overwhelming user experience.

This work was exhibited at COEX in Korea for three days from March 17th to March 19th, 2022.

오른쪽 하단 기둥의 화면에서는 체험자가 몸을 움직이면 Depth Camera 센서를 통해 모션이 인식되고, 그에 따른 신비로운 파티클이 회오리칩니다.
이러한 파티클들이 자연에 스며들며 풍경을 완성합니다.

놀라운 점은, 이 콘텐츠는 10k 해상도의 디지털 사이니지에 실시간으로 구동이 되었다는 것입니다.
때문에 실시간으로 사용자에게 반응하며 새롭고 압도적인 사용자 경험을 제공할 수 있었습니다.

본 작품은 한국시간으로 2022년 3월 17일 부터 3월 19일 까지 3일동안 한국의 코엑스에서 전시되었습니다.